The Big Mill Exhibition
Come and learn about how steel is made and shaped
Get Involved!
---
Date:

Saturday 03 September 2016 until Saturday 12 November 2016 5:00pm
Get tickets from:
01698 274590
---
Event's Address:
North Lanarkshire Heritage Centre High Road, Motherwell ML1 3HU
---
3 September – 12 November (free entry)
North Lanarkshire Heritage Centre
High Road, Motherwell ML1 3HU
Tel: 01698 274590
The discovery of how to shape metal was one of the most important leaps forward in human history. During the industrial era iron and steel making grew on an unprecedented scale, celebrated in a famous 1963 film about Ravenscraig and Gartcosh Steel Works, 'The Big Mill'.
Come and learn about how steel is made and shaped, hear the stories of the people who braved the dangers and searing heat of the steel mill.
Audio clips
Film Screenings
• The Big Mill (1963) 3 Oct, 1.30pm; plus a discussion with the people involved with the film
• The Big Melt (2013) 11 Oct, 10.30am; featuring soundtrack from Jarvis Cocker
• From Scotland With Love (2014) 28 Oct, 1.30pm; featuring soundtrack from King Creosote
Lunchtime Engineers
31 October – 4 November (1.30pm – 2pm)
Pop in for a free 30 minute introduction to some of our engineering collections:
Monday – Motherwell Bridge & Engineering Co Ltd, Motherwell
Tuesday – Alexander Findlay & Co Ltd, structural engineers, Motherwell
Wednesday – Anderson Boyes & Co Ltd, coal cutting machine manufacturers, Motherwell
Thursday – Hurst, Nelson & Co Ltd, railway rolling stock manufacturer, Motherwell
Friday – Thomas Hudson & Co Ltd, boilermakers, Coatbridge
The Big Mill – Exhibition Guided Tour
Find out more about this fascination exhibition on our industrial past in a guided tour.
Wednesday 2 November 2016
1pm – 1.30pm
16 years+
Talk: Industrial Records and You
Join our archivist to find out how to use industrial and business records to explore your familyhistory.
Thursday 3 November
2pm – 2.45pm
16 years+
Talk: From Blue Print to Bridge
Join our Industrial History Curator for an illustrated talk on the processes used by engineers in times past to turn designs into finished articles. There will be a chance to view original drawings and artefacts and to hear recordings from our oral history archive.
Thursday 3 November
3pm – 3.45pm
16 years+
Hive of Industry: The Heyday of Local History Remembered
A talk from our Local History Officer on local industries.
Friday 4 November
11am – 12 noon
16 years+
The Steel Age
By the second half of the 19th Century new ways of refining iron into steel brought a new industry to Scotland, concentrated in Lanarkshire. After a false start at Hallside, Colville's converted their new Dalzell Works to steel production in 1880.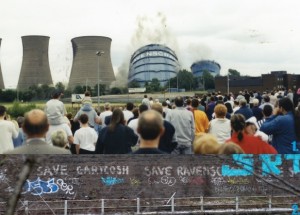 The world's first major steel structure, the Forth Bridge was mostly built using the products of Lanarkshire's open hearth furnaces. After the Second World War, the opening of modern
steel mills at Ravenscraig and Gartcosh led to the opening of car factories at Linwood while Dalzell and Clydebridge made steel plates for ships and Clyde Alloy produced cutlery.
Ravenscraig and Gartcosh
A New Era for Scottish Steel After the Second World War the steel industry was briefly nationalised. The Government decided to build a new integrated steelworks in Scotland. The site at Ravenscraig was next to two of Colville's existing steelworks. An integrated steelworks uses 'hot working', in which iron is made and then immediately converted into steel while still molten. It is then rolled or cast on the same site.
Between 1954 and 1957, blast furnaces, coke ovens and a by-products plant were built at
Ravenscraig. By the time a new strip mill was opened in 1962 Ravenscraig was the most advanced steelworks in the UK.
Strife and Closure
The end of large scale steel production in Scotland In 1980 the steelworkers went on strike in support of a claim for a 20% pay rise. The strike lasted more than 3 months. During the 1984-'85 miners' strike, the steelworkers did not strike in support of the miners. This led to anger at the time, although the steelworkers feared that if the furnaces and coke ovens were allowed to go out they might never be lit again.
In 1986 Gartcosh Steel Works was closed. As Gartcosh processed steel from Ravenscraig this raised concerns about the future of the Motherwell plant. From this point onwards the axe was hanging over Ravenscraig. The big mill rolled its last slab of steel on 24 June 1992. Counting indirect job losses, the closure of Ravenscraig led to more than 10,000 redundancies. This was just a year after the Clydesdale Tube Works had also shut.
The Big Mill Steel is shaped in a 'rolling mill', squeezed between pairs of two rollers. Depending on the shape of the rollers the steel can be made into bars or wide, flat plates.
The Ravenscraig strip mill was the biggest in Europe when it started in 1962. Its purpose was to take 7.5 metre long slabs and turn them into strips of steel that could be as long as 1,200 metres. The mill was highly automated for its time while the building that housed it was nearly 300 metres long – that's the same as from here to the Aquatec! Colville's, the owner of Ravenscraig promoted the new plant by commissioning a film from the famous Templar Films. Directed by Laurence Henson, 'The Big Mill' won three international awards and is celebrated as one of the great
For information on The Big Mill (1963) click HERE.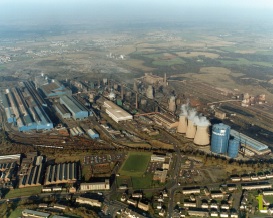 Working in the Steel Industry
Most steel workers started as apprentices. In the 1960s Colvilles opened a training centre at Mossend, Bellshill where new apprentices would start out before being sent to a steelworks. Many of the jobs at the works were dangerous and dirty. Workers in the Sinter Plant and the Coke Ovens would soon find themselves coated in toxic dust. The so-called 'black canteen' at Ravenscraig is fondly remembered: it was the only one of the canteens on site where workers could go to eat without having to clean up first. Although the vast majority of steelworks employees were men, women did work in drawing and tracing as well as administration. If you worked in the steel industry in Lanarkshire and would like to record your memories for our archive please leave your contact details with the heritage centre staff.